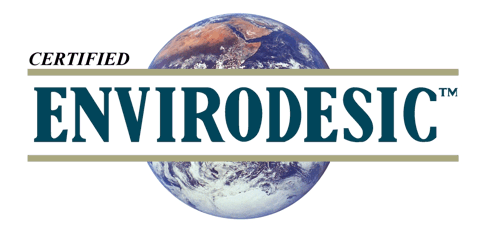 The ENVIRODESIC™ Certification Program



EnvirodesicTM Certification identifies a growing family of cleaner products, healthier buildings, and expert services that promote "Maximum Indoor Air QualityTM" and sustainability. The EnvirodesicTM certification mark is licensed to qualified builders, manufacturers and service-providers whose buildings, products and services meet stringent standards for healthy indoor environments. The Envirodesic team also helps manufacturers develop products which are ecologically sustainable.

The EnvirodesicTM Certification Program is administered by Small & Rubin Ltd. and has access to international experts in low-pollution design, toxicology, medicine, indoor air quality, marketing and related areas.

One of the areas that EnvirodesicTM has been involved in from our inception is cleaning. The world's cleaning industries have been responsible over the last many decades for a great deal of pollution both indoors in our homes, workplaces and public buildings, and outdoors in our waterways. The industry has been obsessed with creating ever-more-potent chemistry to kill pathogens on environmental surfaces, and has conditioned the public to think that they require products that will kill everything they touch, and that will add a variety of 'refreshing' odors to indoor air.

Over the past decade we have been privileged to work with an individual who has been at the forefront of change in the cleaning industry and who has consistently led the movement to 'greener' cleaners in the broadest, most sustainable and healthiest sense of the word. Michael Rochon of Cogent Environmental Solutions, a Canadian company, has been among the first to recognize that everything we clean with must be compatible even with the most sensitive of human beings. He has sounded the alert that the basic paradigms of cleaning and disinfecting need to be re-examined worldwide, and he has proven his point by developing series after series of products that conform to new and more sustainable principles.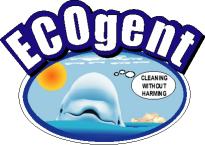 Cogent Environmental Solutions first developed the ECOgent line of 100% natural household and commercial cleaners that are safe even for chemically sensitive people. EnvirodesicTM-certified and fully sustainable, the products led the way in low aquatic toxicity and they biodegrade readily even under anaerobic conditions. They were also proven to be non-hazardous to aquatic life in concentrations likely to enter the environment.

Not to be content, Cogent went on to develop a philosophy of cleaning - "Cleaning without Harming", which led to further questions about industry practices, including the use of surfactants and disinfectant cleaners. Out of this grew "Detergent Free Cleaning", a new series of EnvirodesicTM-certified formulations that clean without surfactants, that are free of volatiles, and that are fully renewable and sustainable.

We are also pleased to announce that in addition to continuing our services to architects, builders and homeowners in the design of healthy buildings, Small & Rubin Ltd. has now added a service provided by Howard Rubin, in which he is available for hands-on assistance in finalizing designs, specifying materials, finding appropriate general contractors, subcontractors and trades, and providing on-site supervision to ensure that your design standards are met by the building crew. To discuss this with Howard, visit our Sustainable Solutions Building Services page or our Contacts page.

For further information about EnvirodesicTM products and services and whether they are appropriate for your application, contact Howard Rubin at the address shown on the contact page. For a detailed discussion of EnvirodesicTM Certification criteria, download this file. To understand how EnvirodesicTM Certification differs from other green programs, download this file.